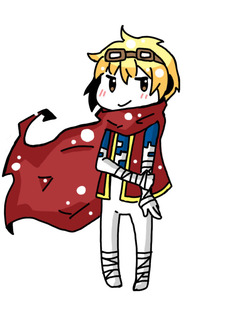 Spike Nebula (Supaiku, スパイク) is a brave, daring and young thief that travels the planet. At only eight years old, Spike is street smart, cunning and swift. He yerns to be a pirate and sail the seas of the planet. His thievery comes in handy as well.
Appearance
Edit
Spike is only eight years old and stands around 4' 7"ft tall. He wears a red vest and a tattered crimson coloured cloak. a pair of goggles are on is forhead as well. On his feet are bandage wraps that protect his feet from burning sands. Spike is mostly barefoot and hates wearing any type of foot wear. His weapon of choice is a small curved sword. His pirate clothing is a jacket, headband, hat and boots. The only time he'd wear footware.
Ad blocker interference detected!
Wikia is a free-to-use site that makes money from advertising. We have a modified experience for viewers using ad blockers

Wikia is not accessible if you've made further modifications. Remove the custom ad blocker rule(s) and the page will load as expected.